Product Description
Next Generation of Saddle Stools
The ErgoSolex® (usa design patented) is our saddle style stool designed to be used in both sitting and standing positions. The saddle shaped seat allows for almost full leg extension. The small lumbar support allows for optimal freedom of movement, while activating stretching of the spine. With our patented design the ErgoSolex feels more like a traditional stool but with the ergonomic benefits of a saddle stool
Backrest
A good ergonomic stool needs to have a lumbar support to prevent slouching. It is proven that we loose at least 30% of the curvature of the spine after 5-10 minutes of sitting. Without a support more pressure will occur within the discs increasing the chance of spinal injury and (lower) back problems.
Freedom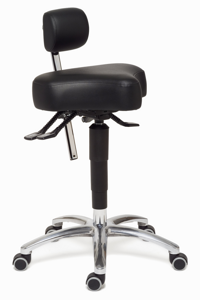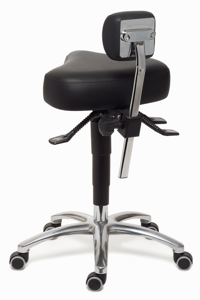 The ErgoSolex® is designed to prevent and reduce lower back and neck complaints. The small size of the lumbar support allows for maximum freedom of movement. It fits snuggly into the lumbar curvature where support is most needed to maintain natural upright posture in working positions. The triangular shaped seat provides an anatomical platform for the pelvis, supporting a natural and relaxed curvature of the spine and reducing fatigue while prolonged seating.
Prevention.
The ErgoSolex® has proven its contribution to preventing and improving back complaints in many cases (see our testimonial page). Available with various armrests and foot ring (see accessories page).
Features:

• Manually adjustable tilting mechanism
• Manually adjustable seat heigth and seat depth
• Back support can be adjusted independently from the seat

Options:



• Fabric or leather multi color upholstery


• Foot control or foot ring




• Adjustable armrest (1D, 2D or 4D models)
ErgoSolex®
product code ESB

- high density injected molded foam (firm)
- manual tilt function
- custom color upholstery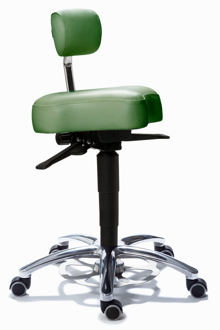 Product Videos
BQE ErgoSolex de luxe
01:08
Instruction video for the ErgoSolex Deluxe
BQE ErgoSolex ...

Instruction video for the ErgoSolex Deluxe
Product Videos
Find Similar Products by Category